An under-handed approach - 1972 ISF World Champion Dick Hames
August 21, 2014
Burlington, ON
---
 
 
An under-handed approach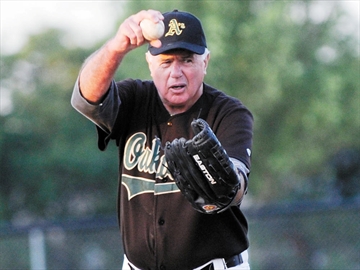 An under-handed approach
ERIC RIEHL / OAKVILLE BEAVER
WINDMILL STILL WINDING: Dick Hames shows off his pitching style that has baffled opposing hitters for half a century. The 75-year-old pitched underhand for the Oakville Golden A's in last weekend's national oldtimers 50-plus baseball championships in Burlington, more than 50 years after playing in his first game of fastpitch.
Burlington Post
When the greatest pitcher of his generation finally agreed to throw a few innings in a local oldtimers' baseball game and started warming up, every one of the guys in the other dugout stopped what they were doing and stared.
Then started complaining, guffawing, and taunting him intensely enough that the usually unflappable pitcher was ready to fire a high hard one at the dugout.
"They were so vicious with their remarks," he laughs. "Stuff like, 'Go back and play with the girls,' and 'Go put your skirt on.'"
The reason for the reaction? This was baseball — hardball. Yet, Dick Hames was delivering underhand. Windmill style.
For those of a certain vintage, the name will ring some bells. Once upon a time, men's fastball was huge around here. In that world, few were bigger than Hames. He'd starred in the Big Four, beaten the legendary Eddie Feigner and his Court, got major leaguers out, and is still considered one of the best fastball hurlers ever.
Thing is, most of the guys on the diamond that day were considerably younger than him and hadn't had much exposure to the game. So when he stepped onto the mound to throw a baseball from underneath, they were stunned.
"Most of them hadn't seen it before," he says.
That was nearly 20 years ago. Today, he's still going. At 75 — though he looks 15 years younger than that — he's likely the oldest competitive baseball player in the area. He's had a hip replaced and should have at least one of his knees done soon. Yet, he keeps at it. And keeps getting people out.
Last weekend, Hames pitched for the Oakville Golden A's in the National 50-plus Oldtimers' Championship in Burlington. More than half a century after playing his first game.
As a young man growing up in Windsor, Hames actually got his start in baseball. He was an OK pitcher, but most of his friends were drifting into softball so he joined them. When he did, he discovered he had a natural talent.
"I had a God-given ability to throw," he says. "I could pick up a stone and hit a telephone pole."
Soon he was a gun-for-hire, going from team to team across southern Ontario and in the States pitching for top teams competing for major titles. He'd play as many as 110 games a year, pitching in almost all of them. Sometimes that meant seven games a day.
But after winning Canada's first world championship in Manila in 1972 with a 1-0 win over the United States -- he pitched and drove in the only run -- he came home with a virus that knocked him out of the game for a few years. When he returned he wasn't the same. So, after a few more seasons, he quit.
He planned to stay retired. But after moving to Burlington a few years later, some of the old-timers' folks who knew of his background came after him.
"They kept pestering me to come out and play," he says. "I said, 'I'm a  fastball pitcher.'"
But they persisted. So he finally came out. And not long after he did, they pushed even further and asked him to throw.
"I said again, 'I'm a softball pitcher.'"
He went home and tried it though. The ball was so much smaller and at first, everything went high. In time he figured it out but he still had no intention of doing it in a game. Besides, he wasn't sure the rules allowed it.
Until one day, another pitcher threw a modified underhand style at his team. Hames decided if that guy could do it, he'd give it a shot too.
He hasn't stopped since. Even if he admits he's not quite the dominating force he once was.
"Obviously I'm pitching slower," he says.
Back in his prime when he was leading Canada to that world championship, he was throwing with the speed of a top major-league fastball complemented by pinpoint control and a spine-cracking curveball. He was so good, the Ontario Amateur Softball Association named him the top pitcher of the past 50 years.
The pieces of the once-unhittable package are all a little less crackling these days. Even so, before last weekend when some of the teams from across Canada would see him for the first time, he knew what the reaction would be. It's always the same.
"No doubt, some of them (would) make a fuss," he laughs.
He's used to it. Time and time again, teams that haven't seen him have made a stink when he starts warming up. They claim his delivery isn't legal ­— it is -— or just make fun.
One time during a tournament in Tampa, the other team argued so vigorously that his team decided not to use him just to avoid the hassle.
But then with the score lopsided near the end of the game, the other side asked for him to come in so they could try hitting against them.
He got them all out.